Trip to HongKong & Macau - Day 2
Hongkong Macau Travel Blog :

It was a bright morning on the day of our anniversary and after a swim in the morning and we had our breakfast at Cafe Deco, Venetain Macau . We had decided to go to Senado Square, Ruins of St Paul and the Macau tower for the first half and we left the hotel around 9 : 30 in the morning.
Senado Square :
Senado square is a paved area in the center of Macau with traditional Portuguese style architecture that is surrounded by some beautiful churches and shops. It is a place that you feel that is always abuzz with people walking around either in the day or night and a good place to spend 1-2 hours taking some snaps of the UNESCO World Heritage sites.
Senado Square- Macau

Senado Square Macau- How to get there ?

The fastest way to get to Senado Square will be via the taxi from the Venetian but we wanted to see the city and hence used free shuttles and public transport. There are free shuttles from Venetain to Macau Taipa Ferry Terminal and Outdoor Harbor Ferry Terminal. If you want to see the city take a shuttle to to Outdoor Harbour Ferry terminal ( approx 20-25 minutes ). From the terminal there are buses ( bus no 3 and 10 ) to Senado square/ Leal Senado and you have to alight at Avenida de Almeida Ribeiro bus stop which is 20 metres away from Senado square .
We took some photos at Senado Square Macau , spent sometime walking around that area. Do not miss the egg tarts at Senado Square which are probably not as good as ones in Lord Stows bakery but still were quite good for HK 8 $ each.
St. Dominics Church and Ruins of St Paul Macau :
Ruins of St-Paul Macau
Macau Tower
After a lot of walking we decided to take the taxi and we headed to the Macau tower & went to the viewing deck & saw people doing bungee jumping... it was dead scary.. :)
View from Macau Tower
TIP : If you are do not know Chinese please make sure that you ask the guest relations in your hotel to write down the names of the attractions you want to visit in Chinese and carry them along as most of the taxi / bus drivers do not understand English but can read Chinese.
Exploring the Venetian Macau :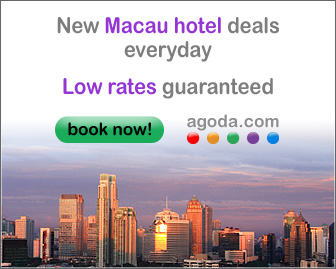 We got back to The Venetian, took some rest & went to floor where they had this gondola ride. Since it was our Wedding Anniversary we wanted to ride in that.. and it was really special since the guy who took us in the gondola knew a Hindi song & he sang for us.. (He was from Columbia)
Venetian Macau Gondola Ride


Me with Hubby- Venetian Macau
We were roaming around Venetian Macau for sometime, went to City of Dreams hotel for taking pics & my husband played in the casino in The Venetian Macau
At Venetian Macau
So after a really long day we packed everything that night since we were leaving to Hongkong the next morning. Off to Hongkong for 5 nights at Eaton Hotel Hongkong.