Hongkong Macau Travel Blog
Now comes the most interesting day for me.. Yeah you guessed it right- Shopping !!!!
Long list of items to be purchased, mixed feelings inside me since only one more day in Hong Kong but the LONG WAIT (for shopping) of 6 days comes to an end because we were heading to Stanley Market.
About Stanley Market Hongkong :
Stanley market is one among the best shopping spots in Hongkong where we get a lot of local merchandise at great prices.The market is located in a region called Stanley which is along the coast overlooking the ocean. The Waterfront Promenade is an excellent location for taking pictures & trying out different street food at several restaurants. The journey to Stanley Market is extremely scenic with winding roads , posh houses and a beautiful bay view as you travel.
Stanley Market Hongkong-
How to get there?
The best and probably the most scenic way to reach Stanley market is by using the bus services from outside the Central MTR station. Citybus services 6, 6A, 6X and 260 from Exchange Square Bus Terminus (MTR Central Station Exit B) on Hong Kong Island serve Stanley Village Bus Terminus for Stanley Market. The bus that we travelled was Bus no 6 which travels a very scenic route via Wan Chai, Stubbs Road, then climbs high up through Wong Nai Chung Gap and skirts the Tai Tam Country Park with some spectacular views before descending to Repulse Bay and following the coastal road to Stanley. The bus journey takes approximately 50 minutes.
View from Bus
Stanley Market-
The Waterfront:
As soon as you arrive at the Stanley Market bus stop , follow the signs ( which are not hard to miss ) to reach the waterfront , It takes a good 5 min walk to reach the waterfront and the first thing you notice is a beautiful boardwalk lined with trees , benches , souvenir shops and restaurants to grab a quick bite as you enjoy the views. Do not miss to relish the gelato ice cream as you slowly walk along the pier & take photos that can be cherished forever.
Beautiful pathway
The Ocean
Stanley Market Shopping: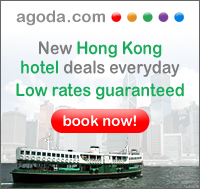 Walk to the left of the Promenade at Stanley Market Hongkong & you will find small shops in alleyways (reminding you of Diagon Alley from the famous Harry Potter) ranging from souvenirs, dresses and good quality leather goods. I had read reviews before my visit & was prepared for haggling but reviewers had warned about rude shopkeepers. I was a little apprehensive about bargaining at Stanley Market Hongkong , but saw many of them do that & became quite comfortable after that. I was pleasantly surprised by some of the shopkeepers who were very friendly & were ready to give discounts.
Stanley Market-What we purchased:
4 excellent quality handbags (2 for HKD 180)

4 T-shirts for HKD 100

5 Hongkong printed T-Shirts for HKD 100.
There is yet another small bag inside this which can be detached too :)
Stanley Market Hongkong- Shopping Tips:
Start bargaining from at least half the price of what the shopkeepers quote at all shops at Stanley Market

Try to be polite to them & do not argue much. If they are not willing to reduce the price, kindly walk out. You will surely find the same stuff elsewhere.

Please keep track of the route inside the Stanley market or you are sure to lose your way ( All streets look similar).

Be careful of your belongings as it can get a little crowded during weekends.
Do not forget to carry your swimming trunks/ suits as the water at Repulse Bay is really tempting for a dip.
Stanley Market Hongkong- Good Indian Lunch Destination:
There is no shortage of good restaurants at Stanley but we had developed a huge longing for Indian food & decided to eat at CURRY TIFFIN, a small restaurant that serves Authentic Indian food. The restaurant is a little difficult to find as there are not many signs but you can take the help of shopkeepers who seems to know the place.
We had a sumptuous lunch & headed back to the bus stop to go to Repulse Bay beach. I would surely recommend this restaurant for people going to Stanley Market.
On our way back to the Hotel, we alighted at the Repulse Bay beach (which was once a place most sought after by pirates), took a stroll in the beach and watched the locals enjoy their Sunday afternoon with kids playing around. We could spot The Ocean Park rides from here. The repulse bay area has the Hongkong's most expensive houses and resorts next to The Peak.
Repulse Bay Beach
Stanley Market Hongkong- General Tip:
All litchi lovers, do try out the litchi juice available in the Stanley Market..